Pretty awesome article. Jackie MacMullan thinks Farrell is the best manager for the Sox right now. Check out the article and what he had to say about various players on the team.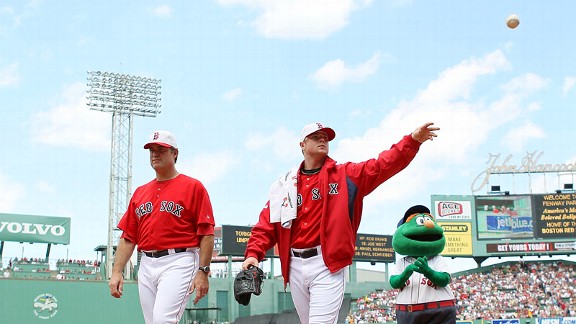 Elsa/Getty Images
John Farrell oversaw Sox lefty Jon Lester's transformation from promising youngster to staff ace.
He was never just simply the pitching coach.
Although that was John Farrell's title with the Red Sox, his baseball tentacles extended well beyond his duties of shoring up Boston's rotation.
"I talked to him about stuff every single day," said Dustin Pedroia, who is most definitely not a pitcher. "About where certain hitters liked to put the ball, about pitchers' tendencies. About everything."
There was a presence about him that drew players to his corner of the dugout. Farrell exuded confidence, trust.
"I always said John was a guy who could do whatever he wanted in baseball," said former Sox manager Terry Francona. "He's that good. He has a feel for people that makes him uniquely qualified for a whole bunch of things."
Pedroia saw it first-hand in Game 7 of the 2008 American League Championship Series against Tampa Bay. Jon Lester was cruising along until the fifth inning, when he gave up a double and a pair of singles. One run had already come across and with a man on first and second and nobody out, the young lefty, who suddenly trailed 2-1, appeared close to unraveling.
"Jon was kind of in a bad spot," Pedroia said. "His head was spinning. We all met at the mound and Lester was kind of looking at John like, 'Help me.' Farrell said, 'Listen, you are going to get out of this. Now go ahead and do it — one pitch at a time.' Then he turned and walked back to the dugout.
"It was a simple message but you could see the change in Lester. His coach gave him his confidence back. That's all he needed."
The next three batters went in order: strikeout swinging, groundout to the pitcher, line drive to the shortstop. Although the Sox would go on to lose 3-1, it wasn't because their pitcher imploded at a critical moment.
"It's that presence that John Farrell has," Pedroia said. "It's a different animal. When he speaks, they believe what he says."
Farrell's reputation was built on the proper mixture of discipline, dialogue and candor, beginning with All-StarCurt Schilling, who told Farrell when he arrived in Boston that he didn't want a "cheerleader or a friend."
"I need a coach," said Schilling.
His new coach sat in on his video sessions while he broke down hitters. Farrell initiated a frank discussion with Schilling regarding his diminishing velocity by explaining his whole scale of pitches needed to come down along with the fastball so the separation of the different pitches still existed.
Schilling flourished under Farrell's tutelage and became a World Series hero.
"I have as much respect for John Farrell as anyone I've ever been around in the game," declared Schilling, who's now an ESPN analyst. "He's a man who is immensely overqualified for pretty much any job in the game."
The Red Sox are confident Farrell can quell the chaos that has enveloped the clubhouse for the past two seasons.
The Toronto Blue Jays, their fans and the media there have observed Farrell's triumphant return to what he termed his "dream job" in Boston with alternate bouts of bemusement and irritation.
Farrell was supposed to resurrect the Toronto franchise, too, but left town after two years of disappointing results. Last season, after losing a chunk of his starting rotation to injuries, then having Jose Bautista shelved for the season with a wrist injury, his ballclub descended into its own abyss of controversy and losing.
"All I know is when John Farrell walks into our clubhouse, everyone stops and pays attention.

"– Dustin Pedroia
Yunel Escobar thrust Toronto into the headlines when he painted derogatory slurs in Spanish on his eye black. Veteran Omar Vizquel doused the growing problems in the clubhouse with his own can of kerosene when he questioned the leadership of Farrell and his staff. Vizquel later apologized, but the damage was done. The perception was that Farrell had lost control of his clubhouse, the very thing he was brought to Boston to remedy.
Asked what he learned in Toronto, Farrell answered, "I took away a better understanding of the position player and their mindset. I learned about overall team building instead of emphasizing individual points with pitchers. I learned about communication. It's an ongoing process."
His spotty results with the Blue Jays have not caused his backers to waver.
"It's dangerous to draw conclusions from 'unnamed people' who may or may not exist," Schilling said. "The Escobar thing was a dumb-ass thing done by a dumb-ass player. If you think John Farrell said, 'Hey, that's cool, go with it,' then you are crazy.
"John Farrell will have enough credibility in the Red Sox clubhouse to take care of whatever he needs to take of in there."
"That Toronto stuff is all talk," Pedroia said. "I don't believe it's the real story. It's easy to point fingers when guys get hurt. We've been through that.
"I know from what happened here in Boston how things can get twisted around.
"All I know is when John Farrell walks into our clubhouse, everyone stops and pays attention."
Part of that, Schilling added, has to do with the fact that Farrell stands an imposing 6-foot-4, 220 pounds.
"Don't discount the physical presence," Schilling said. "John's a big boy, and that's no small thing. In a clubhouse full of macho tough guys, he's different than Buck Showalter. It matters. It matters enough that John will use it when he needs to. He won't back down from anybody — and they aren't going to push it with him."
Ben Cherington understands that former pitching coaches don't have great track records as managers. And yet, he never really viewed Farrell through that singular lens, particularly because as a former farm director for the Cleveland Indians, Farrell was involved in all aspects of the game.
"He was almost like a coordinator in football," said Cherington.
While Farrell was Boston's pitching coach, he was brought into meetings on personnel decisions, whether the topic was free agency or potential trades.
Cherington recalled a discussion regarding Lester, who had not yet thrown his 2008 no-hitter but whose potential was obvious. A number of teams offered high-profile veteran starters for Lester, deals that initiated internal discussion about trading him.
Farrell, sitting in on the meeting, informed the Sox brass they would be making a big mistake.
"He felt very strongly that Lester was a guy who was going to get better very quickly, a guy who would be better than anyone we could get for him," Cherington said. "I won't say John was the only reason we didn't (trade Lester), but he was a big piece of it."
Nearly 5 years later, Lester is again being mentioned as trade bait after two lackluster seasons marred by inconsistency.
Farrell has seen some "subtle changes" in Lester's delivery that he's certain can be rectified. As for the pitcher's psyche, that might take a little more time.
"Jon is a very concrete thinker," Farrell explained. "Anytime there were any suggestions made to him, it had to come from a very sound place for him to understand it and apply it.
"I'm not saying he doesn't have aptitude. He's just a very concrete thinker, and when the message resonates, he's as good as there is in the game."
Farrell said he followed the chicken and beer debacle that sullied the reputation of Lester (as well as Josh Beckett and John Lackey) with alarm and confusion.
GETTING REACQUAINTED
John Farrell will depart for Florida in February with a roster of familiar faces. Here are his thoughts on a few of them.
---
Daniel Bard
: "When he's healthy, he's very valuable. Some changes took place. We need to get him back to the purity of simplifying his approach. Instead of managing 6 or 7 innings, let's keep it simple and pare it down. He's a reliever in my mind." A setup man or closer? (Long pause). "He was on a path to be a closer, but we've got to get his legs back underneath him. His performance will carve out what he ultimately becomes."
---
Alfredo Aceves
: "Extremely talented. He can do some things in the game that quite possibly no one else can do from a physical standpoint — from the number of pitches thrown on a given day, to the frequency of use, to the versatility he displays. He can flat-out pitch. "I want him here. Some understanding on both sides will be required. We've had some brief interactions. He wants to stay and I want him to succeed."
---
Clay Buchholz
: "The sky is the limit. He's got an incredible mix of pitches and he's matured so much. He's gotten an understanding of reading swings, possibly calling his own game a little more. He's so much more in charge of his game than before."
---
John Lackey
: "Misunderstood. A genuine person who cares. He's had some struggles here. The physical ones have been well documented and I truly believe there's a gifted pitcher in there. I'm aware he's (taken a beating here). We've talked about it."
---
Dustin Pedroia
: "Nonstop. Shows no fear, won't ever back away from a challenge. I hear from him non-stop. Text messages, calls, questions about what players we are signing, are we making this trade, why hasn't this happened. Some people might ask, 'Is there such a thing as a player having too much communication? When does a player go too far?' I don't think they ever do. I love the dialogue. The flip side is no interaction, no forwarding of thoughts or ideas. The game needs more Dustin Pedroias."
---
Jacoby Ellsbury
: "He has every ability to be the dynamic player he was two years ago, and, quite frankly, we need him to be that." But not texting you nonstop, right? "Different personality. That's what makes the game so great. I've reached out to Jacoby. I plan to keep him engaged. That's going to be on me."
---
Will Middlebrooks
: "Such an exciting young player. He's a cornerstone type of guy."
–Jackie MacMullan
"It didn't add up," Farrell said. "Not from the experiences we shared. What were the reasons for the inconsistencies in the month of September? I certainly can't speak to what was going on inside another clubhouse, but in my mind, it didn't reflect on who they are, as people or competitors."
Farrell intends to implement a work ethic that is universal — and required.
"Attention to detail cleans up a lot," he said.
He grew up the son of a mason and lobster fisherman who was up at 4 a.m. on weekends and holidays pulling fish guts out of a bucket to prepare to head out to sea. Farrell and his older brother, Paul, traded elbows jockeying for position on the boat, often leaning overboard to vomit when the waves swelled.
"Even at a young age, he was more intense about it than I was," said Paul Farrell. "He asked a lot of questions. He wanted to know how everything worked."
Later, when he became a pitcher, that natural curiosity persisted. True to a baseball career that required patience, perseverance and temerity, Farrell's first start in the majors, said his brother, was a rain-delayed victory in the second game of a doubleheader.
Both Pedroia and Schilling referenced Farrell's own experiences as a major league player as a key component of his credibility. Farrell blew out his elbow twice and suffered through two Tommy John surgeries, leaving him to grind through the final years of his career.
He and Francona became friends while toiling for the Indians in 1988.
"We were both hanging on for dear life," Francona said. "We weren't even thinking a week ahead."
The two men, while different in so many ways, formed a bond through baseball that has withstood the test of time.
"It was a very good feeling to stand next to him in Boston through all those ups and downs," Francona said. "He was sturdy. And by that I don't just mean those thick legs.
"When you stand next to him, you know what you've got."
Pedroia believes that Farrell will adopt a similar approach to Francona when it comes to dealing with players. He recalled an 0-for-18 postseason stretch that left him scuffling.
"So I go up to Tito and say, 'Whatcha got?"' Pedroia said. "He looked at me and said, 'Go out and have some fun. Go get Kevin Cash's bat. I know there are some hits in there because he never gets one.'
"So I grabbed Cash's bat and I went up there and I got a double off the wall. It was an RBI, and we won 2-1.
"John has the same way about him. He would have said something just like that."
Francona left Boston under murky circumstances following the collapse of 2011. The former manager preferred not to comment about the Red Sox for this story, but he will have his say regarding his former employer soon enough, when his book entitled "Francona: The Red Sox Years," written with Boston Globe columnist Dan Shaughnessy, is released on Jan. 22. Expect to read damning comments regarding ownership and the front office on how his departure was handled.
That trio of ownership — John Henry, Larry Lucchino and Tom Werner — is the same group of men who gave their blessing to hiring Francona's dear and loyal friend.
Farrell coincidentally happened to be in Boston with his son when news broke that Francona and the Red Sox had parted ways.
"I just asked, 'Why?'" Farrell said. "That was the one word that came to mind."
Did he ask that question when it came time to interview for Francona's former job?
"No," he answered. "I didn't feel I needed to. What happened to Tito did not cause me any trepidation.
"I look at the challenges that present themselves here in Boston as a draw. When Tito brought me in here as the pitching coach he told me, 'We're going to experience something here that's the best baseball has to offer, or perhaps the worst.' We knew about the passion of the people in this region. We knew what a focal point the Red Sox are, and fortunately for us, we experienced the best of that.
"I'm not coming here unaware."
Farrell is convinced he can turn around what has been an underachieving pitching staff. He believes he can galvanize a physically and mentally bruised lineup.
Cherington doesn't expect Farrell to be an instant elixir for all that has ailed the Sox.
"I need him to expect the right amount (of success)," Cherington said. "I need him to understand what he can do and what he can't do. I know he does, but he's always so diligent, so conscientious, and he wants to make as big an impact as he can as quickly as he can.
"But he doesn't have to do this alone."
He's down been this way before, but the pitching coach is the manager now.
And John Farrell knows as well as anyone the two jobs simply are not the same.